Join us again or for the FIRST time for the best fun you will have all year!
The Chris Wells Memorial Golf Tournament
Friday, June 15th, 2018
at South Shore Country Club – Hingham
---
If you cannot attend any of the events and want to make a donation, if payment by credit card:
Once you are on that site, simply click on Tickets then click Individual and you will see a Donation option OR you can mail a check made out to the Chris Wells Memorial Scholarship Fund c/o Jeff Stone, 68 Ingham Way, Pembroke, MA 02359
The 26th Annual Golf Tournament takes place at South Shore Country Club, 274 South St, Hingham, MA 02043 (https://www.southshorecc.com/) on Friday, June 15, 2018 beginning at 12 noon sharp.
The tournament is Shotgun style and the registration fee is $165, which includes golf and cart and also includes one ticket to the Comedy Show featuring two of Boston's favorites, Tony V and Jimmy Dunn. The comedy show is preceded by a sit down dinner of marinated steak tips, marinated grilled chicken, smoked bacon mac 'n cheese, salad, rice, corn on the cob, potato salad, rolls, cornbread and strawberry shortcake. A cash bar is open all night.
You can register as an individual or up to a fivesome. This always sold out event is limited to 128 golfers so please sign up early to ensure a cart on the course!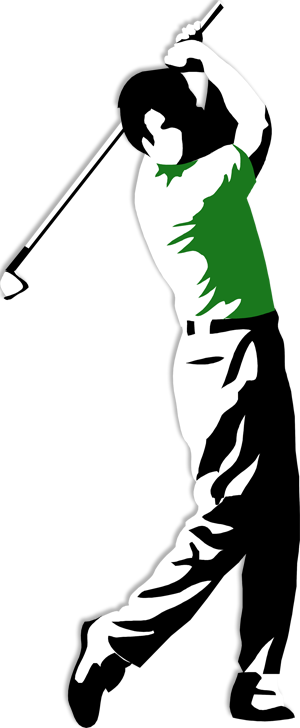 Comedy Show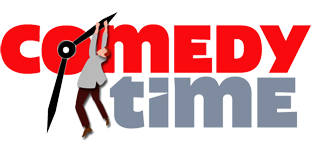 The Comedy Event takes place in the Ballroom at Raffael's at South Shore Country Club, 274 South St, Hingham, MA 02043.  Doors open at 5:30pm with a cash bar and a sit down dinner at 6pm and a cash bar.
The Comedy Show begins at 7:00pm featuring the legendary Tony V and Jimmy Dunn.
TO RESERVE SEATS OR A TABLE, PLEASE CLICK ON THE "DETAILS" TAB ON THE UPPER RIGHT.Ticket prices are $75 per ticket or $750 for a table of 10.
Comedian Headliners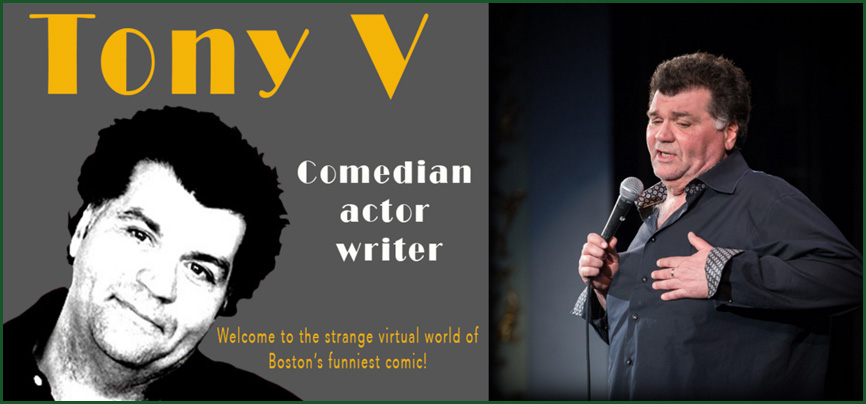 Tony V started his stand-up comedy career in 1982 after attending several shows at Boston's prestigious Comedy Connection. He wandered in one night, quite by accident, looking for a little stress relief from a high pressure job as a case worker at the Somerville Mental Health Center. Tony was working his way toward a Masters degree in social work having graduated from the University of Massachusetts with a B. S. in Psychology. It was not long after that he took to the stage himself. Tony's street wise humor tempered with a genuine feel for the human condition quickly propelled him to headliner status on the national comedy club circuit.
In 1986 Tony V was named "Funniest Person in Massachusetts" by Showtime television. He followed this achievement with several performances on HBO, the Arts and Entertainment Network, Comedy Central and MTV. From 1987 through 1992 Tony V became the "spokesperson" for American Tourister Luggage. Remember the suit case smashing gorilla? It was Tony that gave the ape it's distinct voice and temperament. Touring extensively in and out of his high tech forty-five thousand dollar yak hair gorilla suit, both Tony and his alter ego had many interesting adventures. If you get a chance ask Tony about a meeting between The Gorilla, Spuds MacKenzie and Ronald McDonald. You won't believe your mind.
Network television was next on list for this Boston native. Spending time in New York and L. A. paid off with multiple highly acclaimed appearances on Late Night w/ Conan O'Brien, Comedy Central's Tough Crowd w/ Colin Quinn and several sit-coms including Seinfeld, Boston Common, The Single Guy and Dr. Katz Professional Therapist. Having proven himself a solid comic actor Tony then tackled dramatic roles on television working with such notable actors as Eric Roberts, Ice T and James McDaniels from NYPD Blue.
Tony's big screen outings include State and Main, Celtic Pride, Housesitter, One Crazy Summer and Shakes the Clown as well as the independently produced By the Sea and Abracadabra. Tony has also produced and written on several shows for network and production companies. He is no stranger to benefits and fund raisers performing at functions for The American Cancer Society, Children's Hospital, The Boston Food Bank and many other charitable organizations. His corporate shows include Citizens Bank, The North East Lumber Association, Stop & Shop, American Express Corp. and Staples. Along with being a popular headliner at clubs and colleges all over the free world, Tony V has worked with Jay Leno, Dennis Miller, Bobcat Goldthwait, Steven Wright, Adam Sandler and countless other friends and nationally known acts. Tony has opened for Kenny Rogers, The Temptations, Billy Ray Cyrus, The Beach Boys and Joan Jett. Tony also really believes that this is enough of a Bio and if you're not convinced or impressed by now nothing is going to change your mind. So thanks for reading this far and good luck in all you endeavors.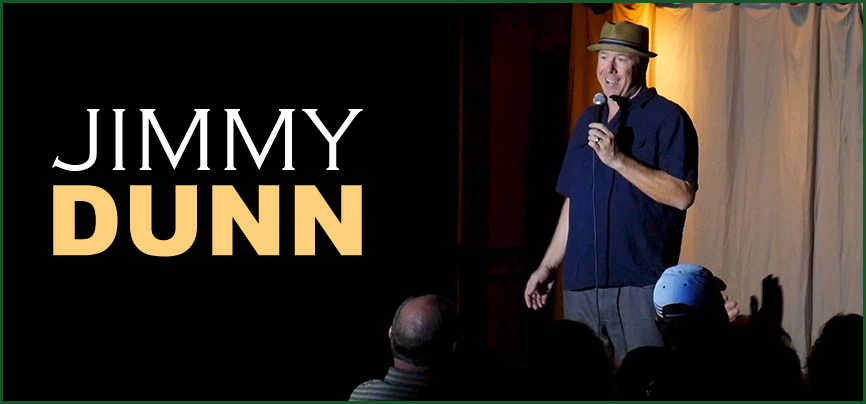 Jimmy Dunn is an actor and stand-up comedian from Boston, who recently co-starred on the CBS comedy "The McCarthys" as Sean McCarthy.
He got his start in the comedy world telling jokes at a bar in Gloucester, Massachusetts, where he was paid in beer and fried clams. Since then, Jimmy has gone on to perform at some of the comedy industry's most prestigious events, including Denis Leary's Comics Come Home, Montreal's International Just For Laughs Comedy Festival, and the Late Show with David Letterman.